Guiding Coalition members are a powerful, enthusiastic group of Change Leaders that develop new strategies and put them into effect to transform the Icahn School of Medicine at Mount Sinai (ISMMS).
As part of the Racism and Bias Initiative's (RBI) change management plan, our commitment is to establish a diverse guiding coalition of faculty, staff, leadership, and students from across the institution, who represent a cross-section of race, gender, ethnicity, departments and roles, and include individuals who identify as underrepresented in medicine (with a priority to those who self-identity as Black/African American).
Each member contributes unique skills, lived and professional experiences, perspectives and networks in order to enable the most innovative ideas to emerge. Collectively, the Guiding Coalition will be responsible for setting direction for the RBI.
The Guiding Coalition will:
Oversee the change projects or actions.
Identify options for implementation.
Make decisions about where energy and resources should be focused.
Determine how to hold people accountable, and manage resistance.
Each member will serve a one-year term and meets the following criteria for membership:
Value diversity comprehensively, including race, ethnicity, religion, gender, sexual orientation, ability and disability, age, and other factors that shape creative perspective and professional experience.
Demonstrate a high commitment to ending racism and the unearned privileges that white patients, medical students, house staff, medical educators, and staff benefit from
Be open-minded and willing to approach problems with awareness that one's own perspective is not always the only valid perspective
Align personal goals and talents with the Racism and Bias Initiative agenda and vision
Create and cultivate an environment in which team members are invested in matters that promote equity
Desire to transform "Why we can't" to "How we can"
Effect change through actions—big and small
Execute change actions in current job function and role
Meet the Guiding Coalition of Change Leaders
Admissions Sphere
My name is Jessica Maysonet.
And I am an RBI Change Leader.

"Becoming a change leader in the Racism and Bias Initiative is important to me as a person of color and the need to break down walls and barriers established to maintain a certain order. It is in my nature to help, to get an answer to a question, to make something better than when I arrived and when it comes to this particular topic I often feel helpless and hopeless that there will ever be a change for the better. This initiative coupled with the young people we work with, has given me a spark of optimism and sense of responsibility to be involved."
My name is Alyson Mehr.
And I am an RBI Change Leader.
"I am a social worker with a long-standing commitment to enhancing educational opportunities for underrepresented youth. We will not be able to create meaningful change, or reach our full potential as a nation, until we examine the structural inequities that contribute to a lack of access to quality education, healthcare and opportunities for Black and brown communities. For me, becoming a change leader in the Racism and Bias Initiative is about putting in the work needed to make an impact."
My name is Valerie Parkas.
And I am an RBI Change Leader.
"I am committed to being a RBI change leader at Icahn School of Medicine at Mount Sinai because there is clear and sustained data and knowledge that there are disparities in healthcare and disparities in education here and nationally. The disparities in both medical outcomes and educational outcomes stem from fundamental bias and structural racism. We need to commit, as an institution and as individuals, to thinking through our day to day work as well as our long term mission oriented work. We need to commit to making small and big changes to address bias and racism in our policies, procedures, educational environment and clinical arenas."
Clinical Sphere
My name is Victoria Hartman.
And I'm an RBI Change Leader.
"I am a licensed clinical social worker. My passion is working with underserved and underrepresented pediatric patients experiencing chronic illness. As a woman of color and a social worker, the RBI initiative hits very close to home both personally and professionally. I have witnessed how racism and bias can impact a patient's medical care and health outcomes. I have also witnessed how everyday racism and unconscious bias can influence the way we work together as colleagues and team members. I am inspired by our medical students at the Icahn School of Medicine who have been bravely leading the charge against health inequity and social injustice within medicine and our institution. I joined the RBI initiative to help promote change on an institutional level. I believe that together we can create a culture at Mount Sinai that embraces and celebrates diversity and inclusion."
My name is Will Kuo.
And I'm an RBI Change Leader.
"I originally became a Social Worker and Psychotherapist because I always had a passion for working directly with others and creating an impact on an individual level. However, individuals don't live in a vacuum. Our environment which includes institutionalized racism and bias, are often out of an individual's control, and cannot be adequately addressed on an individual level. Change needs to occur at the institutional level too, which is why I became involved in the Racism and Bias Initiative (RBI). Through my work I have also come to realize the importance of recognizing how my own biases can negatively impact others as well as how the environment may have shaped me in becoming complicit with the status quo of a racist and biased system."
My name is David Muller.
And I'm an RBI Change Leader.
"I am committed to being part of the Guiding Coalition because I see it as my only chance to make a meaningful difference in eliminating racism and bias in my lifetime, at least within the part of the world that I can influence. It also feels like a process that will allow me to learn more, especially about myself, than anything else I've ever undertaken."
My name is Jonathan Ripp.
And I'm an RBI Change Leader.
"I know that I have a lot to learn personally around this issue and have the potential to contribute significant impact through my role as Chief Wellness Officer. Discrimination and bias no doubt exist as factors that erodephysician and trainee well-being and as such I see participation in the RBI as part of my job description. These are huge issues to tackle but, to paraphrase some of the initial RBI Town Hall speakers, 'The time is now because if not now, when?'"
My name is Danielle Weiss.
And I'm an RBI Change Leader.
"As a pediatric social worker, I often witness the negative impacts of health disparities. I joined the Racism and Bias Initiative because I believe it is an important time to advocate for a system of equality and I am excited to be part of an institution that supports these ideals, both for patients and staff. This initiative and transformation process has been an important part of my professional development and I look forward to continuing not only the work within our sphere, but also, diversifying my own education and perspective throughout this experience."
Curricular Affairs Sphere
My name is Shashi Anand.
And I'm an RBI Change Leader.
"I'm interested in the Guiding Coalition because I want to work towards creating an environment of equity for all who work and go to school at Mount Sinai. I'm particularly interested in educating people around the fundamentals of racism and Bias as well as giving them the tools to really self-reflect about where they sit with those things and look at ways in which they can actually make changes in their work."
My name is Rainier Soriano.
And I'm an RBI Change Leader.
My name is Joe Truglio.
And I'm an RBI Change Leader.
"I became a doctor to improve health and reduce health inequities.  Over the past several years it has become clear to me that there is not a single driver of health inequities more powerful than racism.  I have also come to realize that as a profession we do not adequately prepare our students and trainees to effectively mitigate racism in medicine, society or themselves.  This process was painful, and involved recognizing my own role within a racist system, and the ways my own biases have negatively impacted the very patients and communities I seek to serve.  While I recognize the influence of systemic and individual racism, I also firmly believe in the power of education, and that an antiracist curriculum can truly save lives.   I am honored to be a part of the guiding coalition.  I hope to contribute, grow, learn and be challenged as we work together for truly transformational change."
Student Sphere
My name is David Christian.
And I'm an RBI Change Leader.
"As a person of color growing up in Saudi Arabia for the first 14 years of my life, I had the privilege of attending an international school. My concept of race was virtually non-existent, not because race and skin color were absent notions in the Middle East, but because I looked racially amorphous and people would mistakenly consider me Middle Eastern. From the day that I moved to the United States until now, I have begun to learn how race and ethnic origin play such a crucial role in one's identity, history, and socioeconomic circumstances. Much of how I came to medicine, and Sinai specifically, has been to understand how institutions can help to improve the conditions of people who have and are being marginalized. As a member of the student sphere in the guiding coalition, I hope to work collaboratively and transparently with students, staff, and faculty, to tackle racism and bias within this institution so that Sinai's actions and goals are in alignment with its mission statement."
My name is Jennifer Dias.
And I'm an RBI Change Leader.
"I decided to join the Guiding Coalition to honor the sacrifices of my ancestors. As an Afro-Latinx Black cisgender woman, I recognize the responsibility that comes with the power of my (future) MD degree and I want to leverage my privilege to amplify historically excluded experiences. This space gives me a sense of belonging that empowers me to think creatively and reimagine structures that steer us toward transformational change."
My name is Axel Epie.
And I'm an RBI Change Leader.
"I have always valued the importance of individuals being assessed purely on the basis of their worth and grew up with parents who encouraged me to be the best individual I could to change this world. When I arrived in the United States from Gabon, Central Africa and began to become aware of the social issues that mar this society, largely embedded within its historical constructs, it motivated me even more to be someone who could facilitate change. I have always believed that I was blessed to have been exposed to individuals of different creeds, ethnicities, and life perspectives growing up. This in a way made me aware of what different values people may hold dear but also made me more sensitive to the social, racial and systemic injustices that impede particular groups of people from achieving their full potential. For me, being a change leader is to challenge individuals to think critically about the status quo, how they may benefit from it and how others may be negatively impacted by it. I see it as a means for myself to grow into a more socially aware individual, but also to bring about a healthy discomfort that is often necessary to get us all to think more about the state of the world that we live and how that affects the institutions we may be a part of. It is of utmost importance that students, faculty and any individual within the Sinai system feel as if their voice matters, that their path to success is nurtured and that their worth is recognized as much as the next person. In this way we can continue to build on the strength of the Sinai community and foster an even more diverse and powerful culture. It is a mission I want to contribute to and for that, I chose to become a change leader."
My name is Paloma Orozco Scott.
And I'm an RBI Change Leader.
"I joined the guiding coalition because I wanted to be a part of making systemic changes at Mt. Sinai Medical School and in medical education more broadly. I joined because it's a group of people who have similarly been fighting for anti-racism for a long time but in a multitude of different ways, and I get to learn from and work alongside them. Lastly, I joined the guiding coalition because I want to be part of pushing the conversation and the change forward, I do not want things to be the same in health institutions 5 years down the line."
My name is Francesca Silvestri.
And I'm an RBI Change Leader.
"Race, racism, and white supremacy culture are so ingrained within medicine and how it functions, often in subconscious ways we have never realized nor questioned. It was not until I went to an implicit bias and racism training at the beginning of my first semester of medical school that I began to realize the extent to which these ideologies operate within medicine and how we as medical students facilitate and gain value from that system. So, I joined the Guiding Coalition to delve into ways these systems of race, racism, white supremacy culture, and beyond function in the different spheres of the Mount Sinai institution and work to develop a landscape that breaks down those ingrained norms."
My name is Ruben Vega Perez.
And I'm an RBI Change Leader.
"I'm originally from Guadalajara, Mexico and grew up in the Tijuana-San Diego bi-national metropolitan area. As a first-generation immigrant in the United States, I have a personal understating of the barriers communities of color face to access the care they need.  As a student of medicine and public health, I am committed to addressing the structural factors that despite having no place in our society continue to negatively impact the health of vulnerable populations.  I am convinced this collective work can be taken up by anyone who interacts and has a stake in health care.  As members of institutions that have historical and existent impacts on the status quo, it is up to us to help shape their future as agents of change. To that end, it is my hope that our work through the Racism and Bias Initiative can help move Mount Sinai forward by institutionalizing equity itself."
---
We'd also like to introduce new first-year student members: Bethany Dubois, Shardonay Pagett,  Claire Ufongene, and Emily Xu.
Student Affairs Sphere
My name is Daniel Conover.
And I'm an RBI Change Leader.
"I decided to join the Guiding Coalition because I know there is still much work to do when it comes to dismantling racism and bias in our communities, and we are in a position where we can make a difference here in our Icahn community. I realize that all of our actions, big and small, can either promote or stall change.  I am looking forward to learning from others on the coalition about how I can be more impactful in promoting positive change and executing actions that create a more equitable learning environment for our students."
My name is Tara Cunningham.
And I'm an RBI Change Leader.
My name is Monica Dweck.
And I'm an RBI Change Leader.
"The Racism and Bias Initiative concerns areas that I have been interested in for a very long time. As a result of this interest, many of my activities in my life have been directed in trying to address these issues in whatever small way I could. My immediate and extended family have always been active in addressing issues of racism and bias. My activities began around age 12 and continued throughout high school, college and medical school. . I am excited to join this venture and work with this diverse group to help effect change on a broader basis."
My name is Lauren Linkowski.
And I'm an RBI Change Leader.
"During my career in teaching and education, I have seen firsthand the way schools and institutions can either support or deconstruct entrenched racism and bias, so I am excited to work as part of a team that will reflect on existing processes and advocate for equity and inclusion. I also really enjoy working on long-term projects and systems change, and this seems like a pivotal point at which these things can be accomplished. Finally, I am looking forward to being held accountable to learning and planning from an anti-racist perspective."
My name is Maria Maldonado.
And I'm an RBI Change Leader.
"My interest in medicine evolved as I accompanied my grandmother who had Medicaid to her medical appointments.  I witnessed many unsettling inequities in our healthcare system, and I resolved to become a primary care physician who delivered equitable medical care to all of my patients. During my career as an internist and medical educator, I have been most passionate about how we communicate with patients and the messages we send them, and have worked to implement curriculum for my learners to address these areas. Since coming to Sinai, I have had the opportunity to facilitate some student groups for Dr. Joe Truglio and Dr. Ann-Gel Palermo's ground-breaking and innovative racism and bias curriculum. I knew that the students were getting access to a marvelous education, and at the same time I wondered how this could disseminated to trainees and faculty in the graduate medical education arena as well.  Racism and bias are baked into our social institutions, and I think one of the first important steps is to acknowledge its impact and legacy.  Importantly, the RBI does just that. I spend a lot of time thinking about the following questions: what would we be doing differently if we cared about creating authentic equity in healthcare, and how do we train our learners to be true advocates and change agents in this journey?  And if we know that part of mitigating health care disparities is to ensure a diverse healthcare workforce, how do we create the kind of environment where we ALL thrive and are supported? I hope that my interest, work and experience is addressing implicit bias and creating curriculum on equitable patient-centered care will be of use to this initiative, and I can't wait to roll up my sleeves as we work together to create a model for a just and equitable enterprise."
My name is Talia Swartz.
And I'm an RBI Change Leader.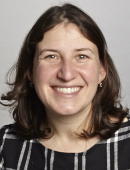 "I am committed to make change. As a physician scientist navigating the worlds of patient care, research, and education, I am aware of deep-seated constructs that prevent us all from building diverse and inclusive teams in biomedicine. I'm committed to working with this talented and passionate group to examine our practices, break down barriers, and create more fair and equitable practices. It is my hope that this work together will allow us to create a sustainable culture in which we redefine excellence, encourage meaningful dialogue, and learn and teach each other."
Student Resources Sphere
My name is Brendan Bullen.
And I am an RBI Change Leader.

"
I'm interested in the Guiding Coalition because I want to make a difference in the space of Academic Medicine. I consider quality healthcare to be a basic human right and our physicians, medical students/trainees, faculty, and staff are all part of a larger conduit in the delivery of that healthcare. Racism and Bias continues to disproportionately affect minorities in a variety of spaces; in healthcare this could literally mean life or death. I am committed to being part of a solution and approach that seeks to dismantle the systems and structures that perpetuate this type of inequality. The Guiding Coalition provides the space and gives us a voice to have an impact on policies and systems using a lens of equity and inclusion."
My name is Michelle Sainté.
And I'm an RBI Change Leader.
"I have always been interested in the writings of the intelligentsia in the area of race, racism, and oppression. I have dabbled in coursework, literature and seminars to understand and explore the ideas and methods of racial justice and anti-racist work. Despite my interests, social location and awareness, I was still ignorant to the culture and climate that plays out at this institution and other environments like ours. While I knew racism when I saw it, it was not always clear to me how my role and approach may have led to upholding those structures and principles that are at the foundation. It was not clear to me that I engaged in practices and behaviors that enabled racism to not only live, but thrive on my watch. I feel empowered by this process and strengthened by my expanded awareness. I remain excited by and committed to the success of the RBI."
My name is Sharoya Sales.
And I'm an RBI Change Leader.
"As a woman of color who has worked in Higher Education for over 14 years I have witnessed numerous biases that I wish did not exist. The type of work ethic I embody helps me connect with all kinds of individuals irrespective of race or economic background; as I continue to learn and grow myself, I would like for others to share in this school of thought. My philosophy, which guides me personally and professionally, is that we never know what a person brings to the table unless they are given a chance and I believe every person deserves to be seen, heard, and accounted for. I prefer to be part of a solution rather than contribute to a problem. For me, participating in the Guiding Coalition of Change helps me do just that."
My name is Peter Zweig.
And I'm an RBI Change Leader.
"I think we have the start of a very formidable group and there's nothing like succeeding as a member of a well-functioning team. I'm looking forward to the professional challenge and anticipate a great deal of growth. I expect to enhance my knowledge and skills around project strategy and planning. And, most importantly, I'm personally motivated to fight racism in a tangible, lasting way and am glad to be in an environment where this is not only an expectation but a crucial priority."
My name is LaVerne Walker.
And I'm an RBI Change Leader.
"I'm optimistically joining the Guiding Coalition because, as Michael Enzi said, "'f you're not at the table, you're on the menu.'
 As a seasoned financial aid professional who dedicated my career to student financial services, relationship management, and educating students and their families of all backgrounds, at times, I'm naively surprised to witness discrimination within the walls of higher learning.  Therefore, I would be negligent not to participate in a think-tank that strategically fosters changes that will implement a diverse, inclusive environment for its staff and students."
CMCA/ODI Resource
My name is Gary Butts.
And I'm an RBI Change Leader.
"Through the GC, I aim to share my experiences and lessons learned over the past 2 decades in D&I, ensure that inclusive thoughts, perspectives and voices are expressed and to learn and grow with the GC team to impact our larger school community as well as my work in ODI. Successfully moving forward requires thoughtful, authentic and inclusive planning and deliberate and thorough examination and exploration of issues that contribute to and perpetuate racism and bias.  Our collective commitment to this effort is essential to having a tangible, sustainable impact on the quality of life, on our climate, and in closing opportunity and achievement gaps."
My name is Ann-Gel Palermo.
And I'm an RBI Change Leader.
"The lens of diversity and inclusion must be well-positioned in all the work we do in the RBI and most importantly in the Guiding Coalition since it is the body that will drive change direction and strategy in the identified spheres. Serving as a member of the Guiding Coalition will allow me to fulfill my commitment and provide and generate resources, tools, and frameworks that will enable my fellow change leaders to engage in active, ongoing practice of questioning and critical reflection that is grounded in the constructs of diversity, inclusion, equity, and anti-racism as we make decisions to advance transformational change."
Guiding Coalition Support
My name is Alia Barnes.
And I'm an RBI Change Leader.
"I joined the Guiding Coalition because I wanted to be a part of the change. It takes genuine commitment, dedication, and patience for change to occur and move to taking an anti-racist stance in our institution. Racism manifests itself in all aspects of our society – especially in our work and school environment. If we spend the majority of our time at work or school, why not try to make it a better place for us all?"
My name is Leona Hess.
And I'm an RBI Change Leader.
"Racial justice is at my core; it underlies who I am and the work I do every day. As a woman of color, actively engaging in transforming racism is healing. I am deeply committed to designing processes to heighten awareness of how race and racism operate in our environments; deepening commitment to learning about, interrupting, and transforming these dynamics; and building our collective capacity to participate in, lead, and manage transformational change. My role in the guiding coalition is to facilitate and create a container for the Change Leaders to engage in an emergent process to develop new and innovative strategies to undo racism, oversee the transformational change targets, identify options for implementation and make decisions about where the energy and resources should be focused in order to transform ISMMS."
The Guiding Coalition would like to extend a special thanks to our past Change Leaders:
Aiya Aboubakr, Marley Akonnor, Marlon Brewer, Manjil Chatterji, Joy Colelli, Peter Gliatto, Sara Haile, Alicia Hurtado, Muneeza Iqbal, Maggie Kane, Reena Karani, Kathleen Jackson, Bee Jaworski, Giselle Lynch, Seshat Mack, Tyler McChane, Akila Pai, Nelson Pe, Natasha Ramsey, and Sally Stranges. Thank you for your service, support, and continued advocacy.
This post was originally published on April 30, 2018. Since then, it has been updated and republished.